THERMAL CUPS
Discover our thermal and coffee cups for coffee, tea and cool drinks to go! All are 100% leak-proof and keep your drinks reliably hot or cold. With a range of different colors, sizes and closures to choose from, there's a thermal mug for everyone!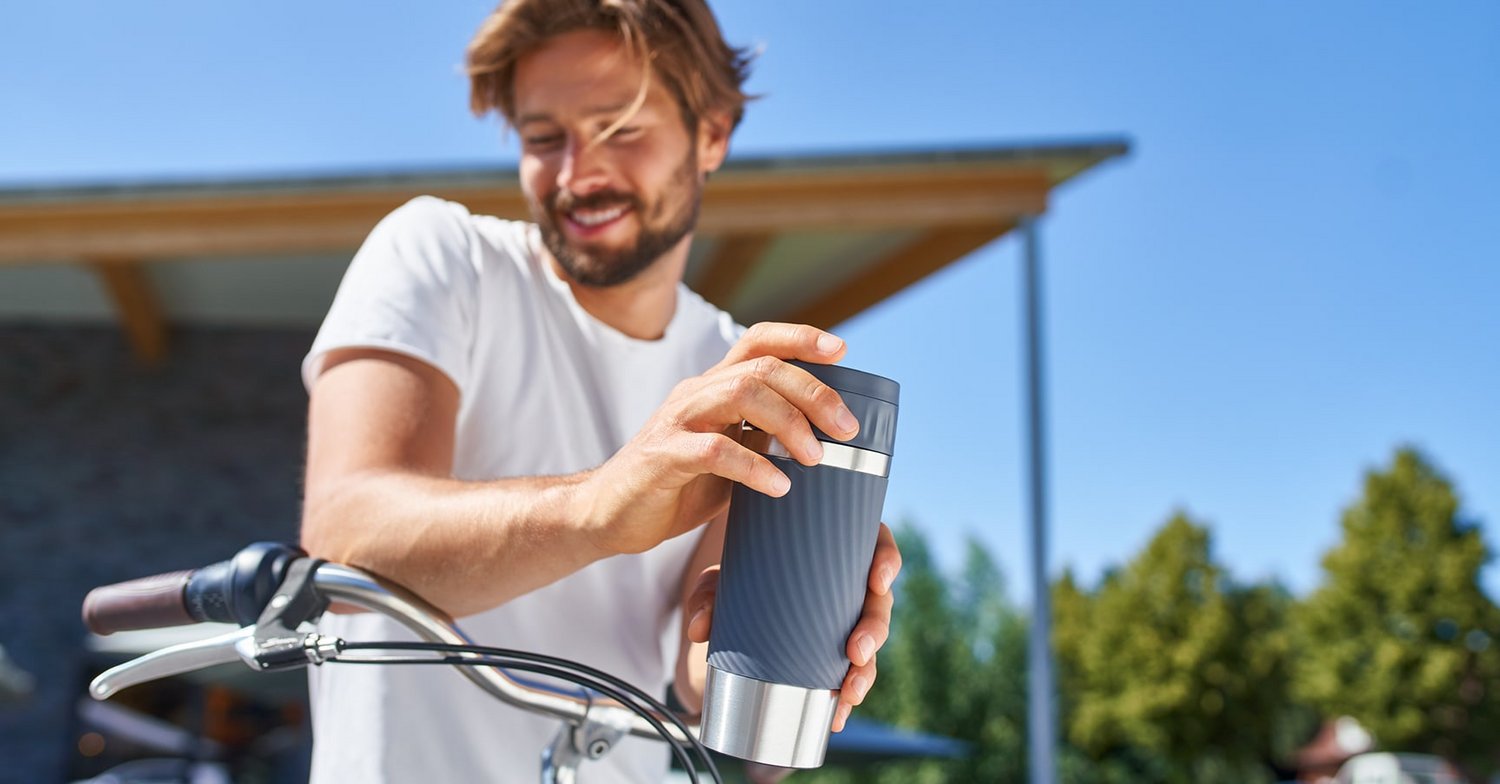 Coffee mugs
For the perfect start to your day
Trendsetters enjoy their coffee on their way to the office – but not in a paper cup, please! By buying take-out coffee every day, not only are you going to waste a lot of money in the long run, but you will also be harming the environment. A cheaper and above all more environmentally-friendly option is to prepare your own coffee at home and take it with you in a vacuum mug.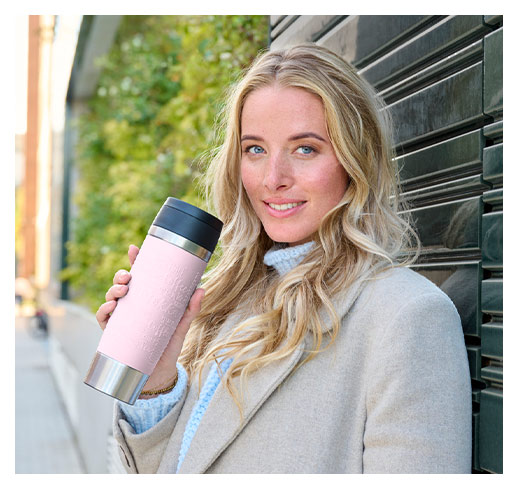 Wherever you go
The perfect companion for hot and cold beverages on the go
Or alternatively, you could always ask the barista to brew your take-out coffee in your own mug instead of a paper cup. If you're going to do this then a high-quality mug is an absolute must. Make sure yours is leak-proof and drip-proof, as this is the only way you will be able to pop it in your handbag or rucksack without having a second thought or worrying about it. Why not try the trendy 100% leak-proof TRAVEL MUG thermo mug, which will not only keep your drink hot for a remarkably long time but also has a practical 360 degree all-round drinking aperture, allowing you to drink your beverage from any side without a single drip.
If you often find yourself in a hurry, this mug will be perfect for you. Almost any hot or cold can be quickly poured into the mug, so you can take it with you wherever you go. And if you soon become bored with your daily morning coffee, all you need to do is add some foamed milk and try using different varieties of coffee syrup to rapidly transform your daily fix into a tasty speciality coffee such as a vanilla or caramel macchiato. Black tea also makes a great alternative to classic coffee thanks to its high caffeine content.
The test winner
Among the thermo mugs
The 100% leak-proof vacuum TRAVEL MUG comes with a handy Quick Press seal and can be easily opened with the press of a button. What's more, it has also already received several awards: the TRAVEL MUG was the out-and-out winner of the "Thermobecher im Test" (Thermo mugs on the testbench) conducted by "WDR Servicezeit", "SWR Marktcheck", ZDF "Volle Kanne" and NDR 1 Radio MV.
The advantages of the TRAVEL MUG thermo mug:
360 degree drinking aperture: so you can drink from any direction.
Take-apart closure: the closure is extremely easy to take apart. And just like the vacuum mug, it cleans perfectly in the dishwasher. So there's no need for you to resort to using a dishwashing brush when you want to get your thermo mug clean.
Quick Press closure: the vacuum mug is easily opened with the touch of a button and 100% leak-proof when closed.
Non-slip bottom: the mug is has a non-slip bottom to keep it securely in place.
The thermo mugs are also designed to fit into all standard car drink holders and can be easily opened using just one hand.
Healthy recipes
To go
Thermo mugs have all sorts of uses, be it for coffee, tea or hot soup. In particular, thermo mugs make a perfect companion when you're out on the go during the colder months – take the TRAVEL MUG, for example, which keeps liquids hot for at least four hours. Clear broths are particularly great for long winter walks.
But the thermo mug to go is also ideal for use during summer, as cold drinks stay cold for up to eight hours in the TRAVEL MUG. Whatever drink you choose – some freshly-pressed fruit juice or maybe a home-made ice tea –, it will stay refreshingly cool throughout the day when you need it for a picnic or a visit to the swimming pool.
Two in one
Coffee from your vacuum mug, or perhaps some ice cream?
Whether you fancy your favourite coffee from a coffee pad or capsule machine or a fruity ice cream in summer, you can take your pick with the TRAVEL CUP vacuum mug. This handy mug fits perfectly in standard coffee pad machines and fully automatic coffee machines, allowing you to pour hot beverages straight into the mug! But on top of that, it can also be used as an ice-cream cup when temperatures rise. The silicone sleeve with coffee embossing ensures a firm grip and makes the vacuum mug the ideal companion for on the go
The perfect gift
Travel mugs and cups
A high-quality, durable mug or cup can be useful for anyone. Young or old, summer or winter, on the way to work or for a picnic in the park – TRAVEL MUG or TRAVEL CUP are always the perfect choice. So mugs and cups are ideal when you're looking for a gift: choose one in his or her favourite colour and add your own recipe for a speciality coffee or some unusual teas and the matching ingredients.